Property block allows to add one or multiple properties / rooms and provide several booking options to the user. In this way you are not loosing customers who prefer booking through OTAs but you also have an option to clearly state the benefits of booking directly and save on OTA commissions if the user is ready to book directly.
Property block allows you to:
Add property name
Add property photos
Add main information/description about the property like number of guests, bedrooms
Add multiple booking options
Promote benefits of booking directly
If you have more than 1 property / room - you can add multiple Property blocks to your page!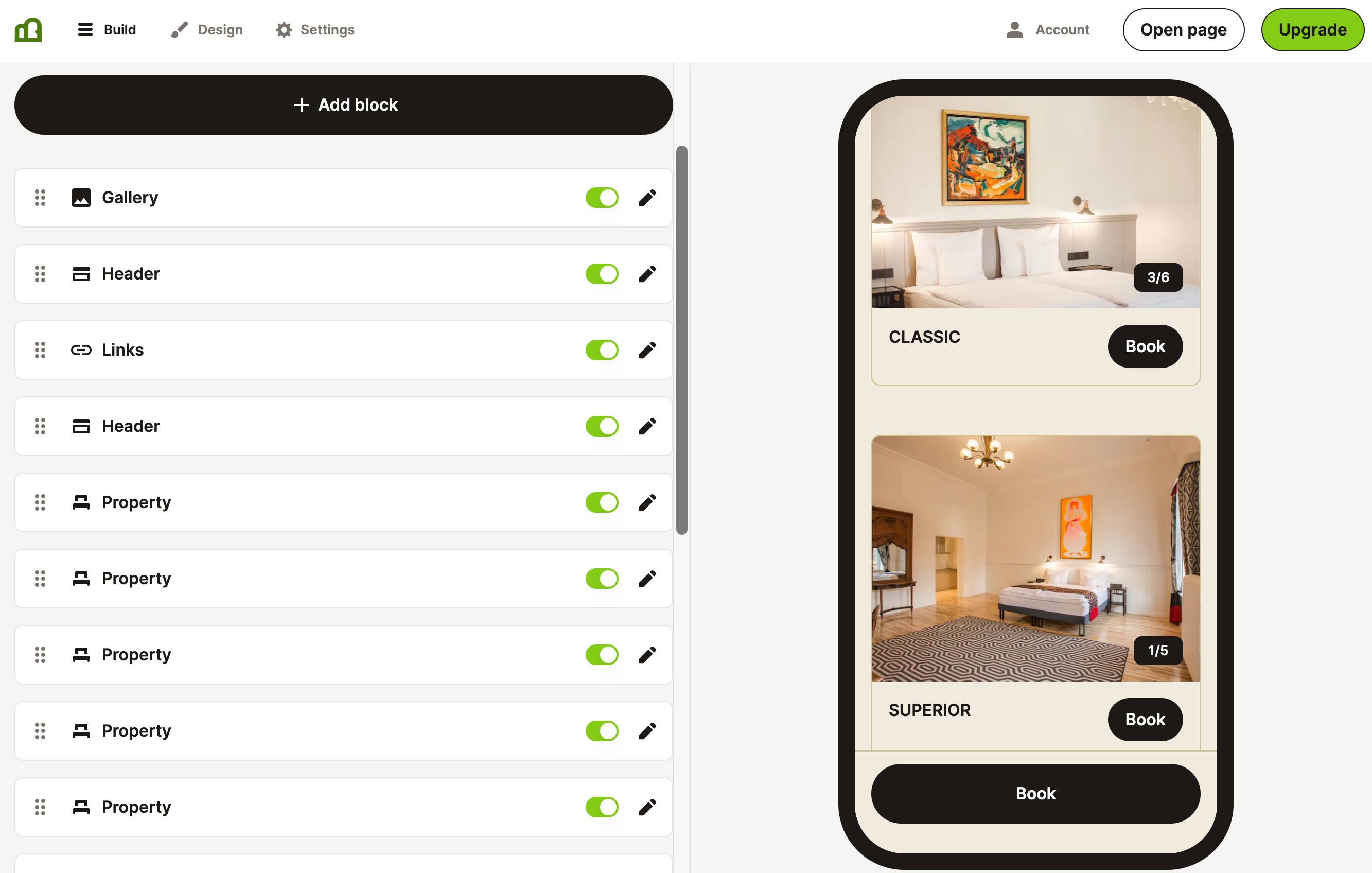 How to add booking options:
Press "Add booking link" to add a new booking option and make a selection from the list. Booking options may include:

OTAs:

a link to your listing on OTA platform (Airbnb, Booking.com, Vrbo, Expedia or any other)

Direct booking:

a link to your website for a direct booking
a link to contact you on WhatsApp
a link to contact you through email
a link to call you directly

Or any other option

Rename a text that will appear on respective booking option
Add a link or a phone number

Please note that in order to add a WhatsApp option you need to add a following link:

https://api.whatsapp.com/send?phone=xxxxxxxxxxxx

(change xxx to your phone number)
You can always choose to just offer one booking option to users if you want to keep it simple. Booklee is a tool that can be customised based on your individual business goals and targets.
Promoting to book directly:
Booklee is here to help you to increase your direct bookings. In property block you can add "Reasons to book directly" to promote why users might be better off if they book directly. Those benefits might include:
Early check-in

Late check-out
Free wi-fi
Free breakfast
Price discount
Surprise welcome basket
Or any other idea you have
Be creative and make sure you are successfully driving direct bookings.
When editing a block you will be able to see how content looks in the page preview view. Press "Book" button to see booking options preview.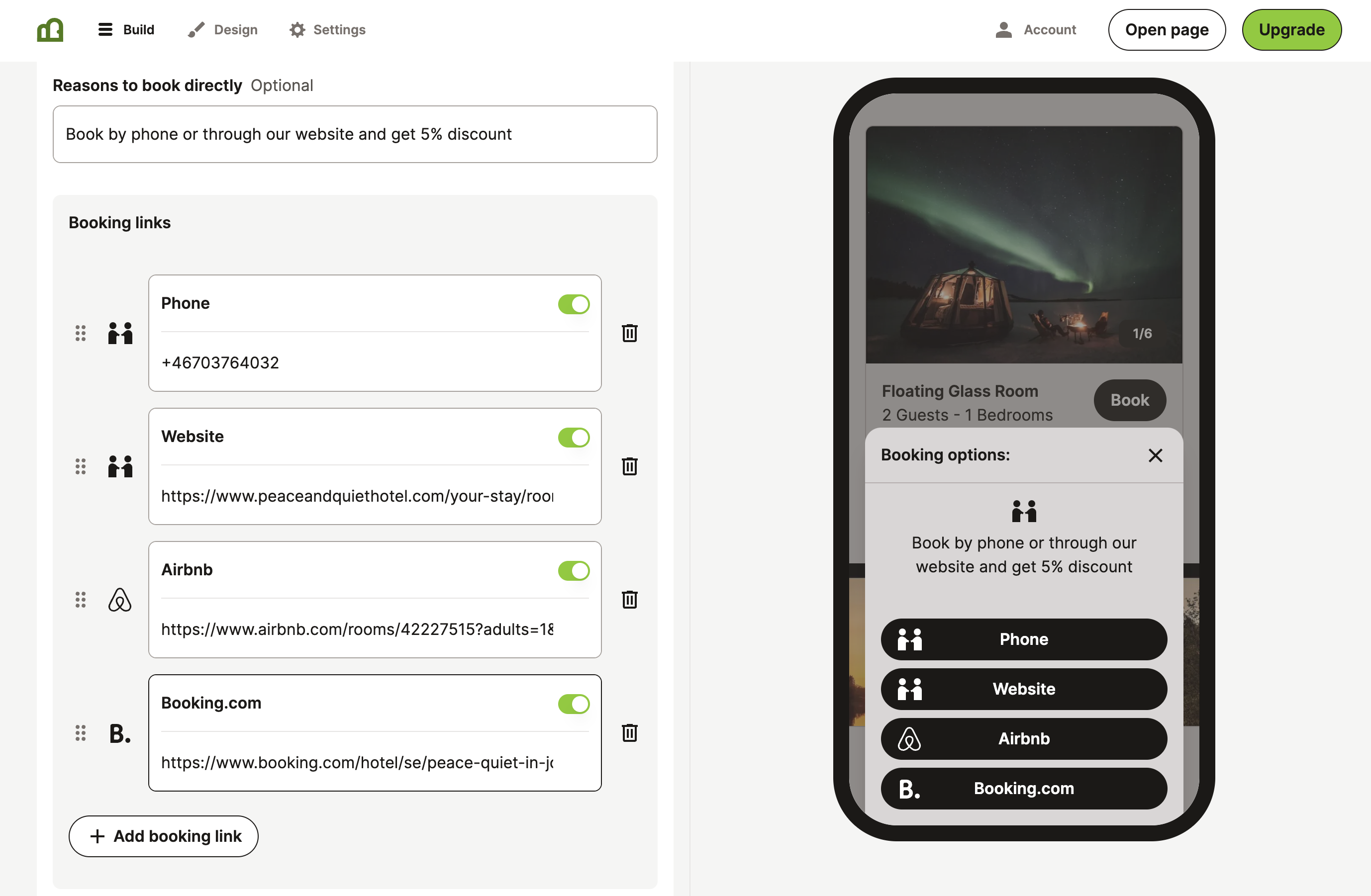 Adding property photos
You can add one or multiple photos for your property. Photos can be added by uploading them from your computer or you can import them from your OTA listing (read below about Vrbo links). You can also easily re-order photos with a drag and drop function as well as delete them if necessary.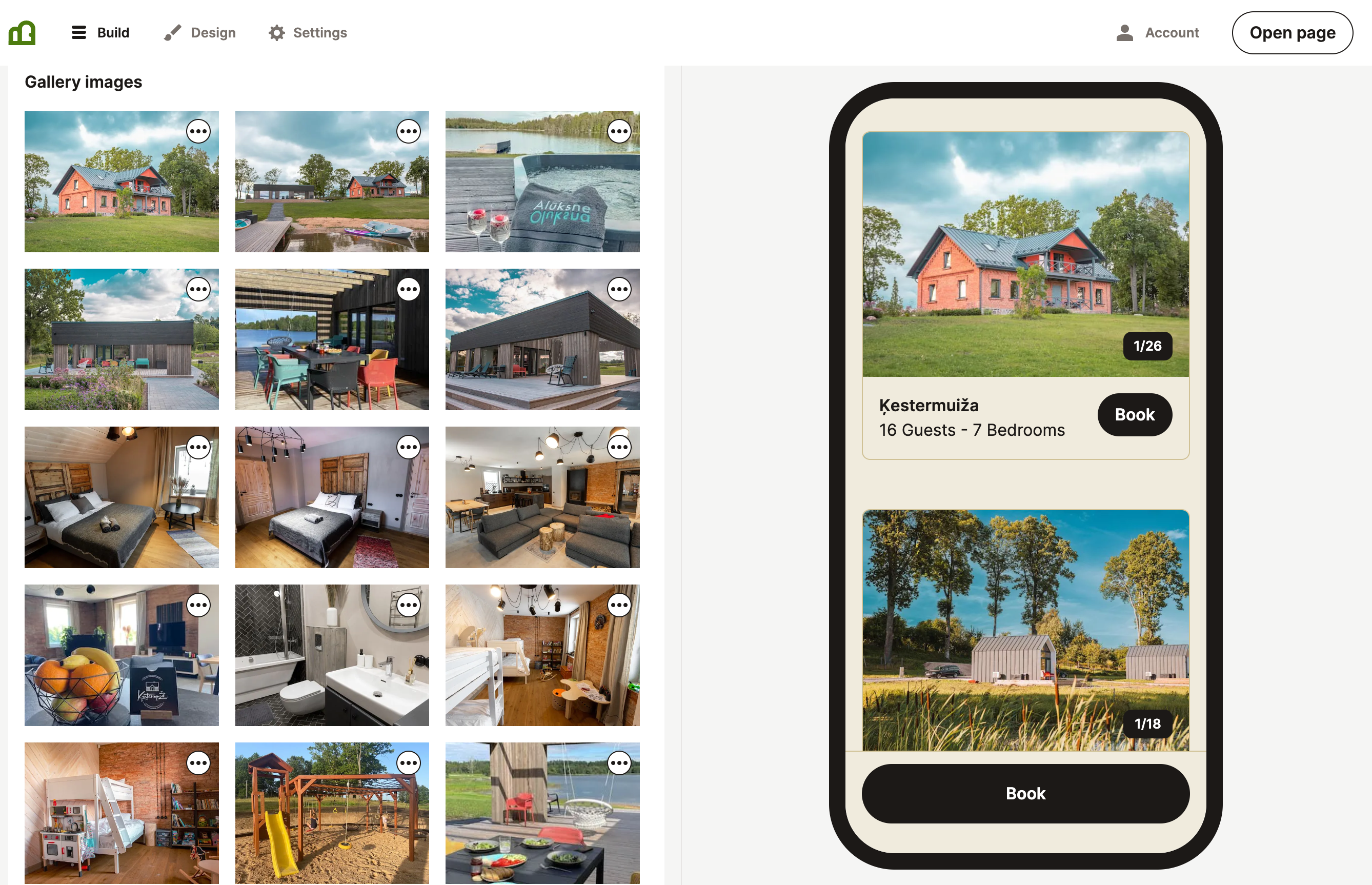 How to get the right link to get photos from VRBO (the link needs to contain property ID):
Option 1 - Search your property using the following link:

Find your property in VRBO using the link provided
Open the property listing (the link will contain property ID)
Copy the url from your browser

Option 2 - Search in your VRBO profile:

Log in to VRBO
Go to your listings
Click on the left top picture of your listing
Copy the url from your browser
In some cases the photo import process might fail due to one of the following reasons:
You have added a review source link from a platform that Booklee does not support

Booklee currently supports import from Google, Airbnb, Booking.com, Expedia, Tripadvisor, Vrbo, and Facebook

You have added an incorrect link or part of the link is missing

Please check that you have a full link from the open view of your listing on respective platform.
Please check that for VRBO the link contains property ID (see instructions above).

In some cases our import process might fail due to other reasons

In this case you might want to try again or you can contact our client support and we will take a look.